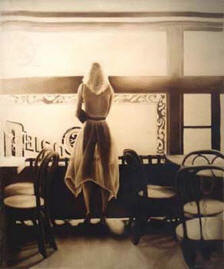 R E V I E W
This show is not one to miss...
The Photographer, The Painter, The Romance
by Philip Golabuk



There are two artists in Winter Park who have shattered the image of the aesthetic prima-donna in a collaboration the likes of which this town hasn't seen. During the entire month of February, photographer Joe Hoover and painter Annie Adkins will be showing their work at the Winter Park Library, a charming place which has blossomed into a something of an in spot for area artists.

Joe is a documentary photographer with a mathematical sense of lighting and a gift for composition. A seasoned technician who cut his teeth as one of the first Air Force combat photographers in Southeast Asia, a Cannes Film Festival Award Winner, and a veteran cinematographer, Joe brings to his work an uncanny sense for subliminal but sudden associations which deliver a tremendous payoff. Look at the images Joe has captured on photographic paper and you will undoubtedly chuckle, grimace, grin, even shudder But you will not be able to remain aloof, safe ,outside his sometimes whimsical, sometimes profound influence. With all this, not even half the story has been told... Biography ~ Joe Hoover

Annie Adkins describes herself as a photo-realist; to be sure, she offers an impressive control of content, perspective, color, and light - the tools of any representational painter. A child pupil under the French painter John Pierre Alexander, Annie went on to study for three years at 11 École de Beaux Arts, in Orleans, France, Since, she has become an accomplished make-up artist, set designer, interior decorator, and mural painter. Many of her canvases hang in private collections and she is regularly commissioned to do portraits and other works. This, you may think, is the rest of the Joe and Annie story. But there's more... Biography ~ Anni Adkins

Now, the seed was planted over six years ago when Joe and Annie met and recognized that their artistic visions coincided in a kind of impressionistic commitment: each sought to represent precise moments, as they occurred, within their respective media. As a result, Annie began to "paint through the eye of the camera (' She and Joe would set up a shot, he would execute it. This photograph, as a photograph, then became the subject of Annie's painting; that is, she would paint not only the subject appearing in Joe finished print, but would Paint it as seen by the camera, translating the graphic dynamics and "vocabulary" of the lens and shutter into brush, paint, and canvas. Sometimes, in this translation, something unexpected would happen and the photographic image would take on new life in its new medium. The process, though premeditated, depends on a readiness for the miracle, something unplanned but recognized by the artist. A kind of give and take...

That, however, is just the beginning. For, depending on what presents itself in the living moment of this transfer from camera to paintbrush, Joe might then enter the collaborative venture again and shoot Annie's finished painting (of the fine photograph). Mirror facing mirrors, cross-media translations, each generation adding its influence, its structure, its moment on the artwork. With each new approach, the original subject and treatment evolve. In some cases, Joe even enlarges the new photo for Annie to hand color. The resulting image, quite apart from its often brilliant subject matter, composition, and set up, is extraordinary. In some cases, one can't be sure whether one is looking at a photograph of a painting, a painting of a photograph, or a photograph of a painting of a photograph...

Joe and Annie's February debut at the Winter Park Library, "The Photographer, The Painter, The Romance," is the first public showing of their amazing collaboration. The exhibit is certain, by virtue of its quality and uniqueness, and the level of artistic interest of Winter Park and Orlando residents, to draw a considerable number of attendees who will delight in the impact of their special work; that is, the photographs and the paintings. But what is apt to be less visible, is the romance...

Philip Golabuk is the author of "Mending the Broken Heart;" "Walls, Windows, and Doorways," and "The Sunset Grill Chronicles." He is the Director of The Field Center, an educational forum for expanding consciousness.