Anni Adkins' paints light and form. Intense pure light striking, reflecting and swirling around sensual flowers, rounded adobe buildings, and sculpted canyon walls. These paintings reflect the artist's almost spiritual connection with nature and her unique vision of the Southwest.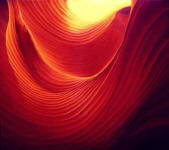 The use of such strong light and thele absence of line make her subjects remarkably sculptural -- seeming to project from the canvas's two-dimensional plane. The artist often embraces both abstraction and realism simultaneously, choosing to see her subjects up close and out of context, selecting shapes, forms and hues to create compositions that illustrate the spectacular abstractions she sees in nature.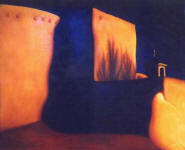 Anni Adkins received formal art training at L'Ecole De Beaux Arts in France and is a modern master whose fine contemporary oil paintings have for three decades appealed to collectors around the world. The artist now devotes her time chasing the light throughout the Southwest to paint her new series, "Desert Flowers and Canyon Walls."
"I create art with emotional and spiritual meaning by painting the things that most connect me to the earth. The paintings I create are my way to sharing the incredible beauty of our planet." ~ Anni Adkins